25,810 sqft
Est. Land Area


11,000 sqft
Est. Built-Up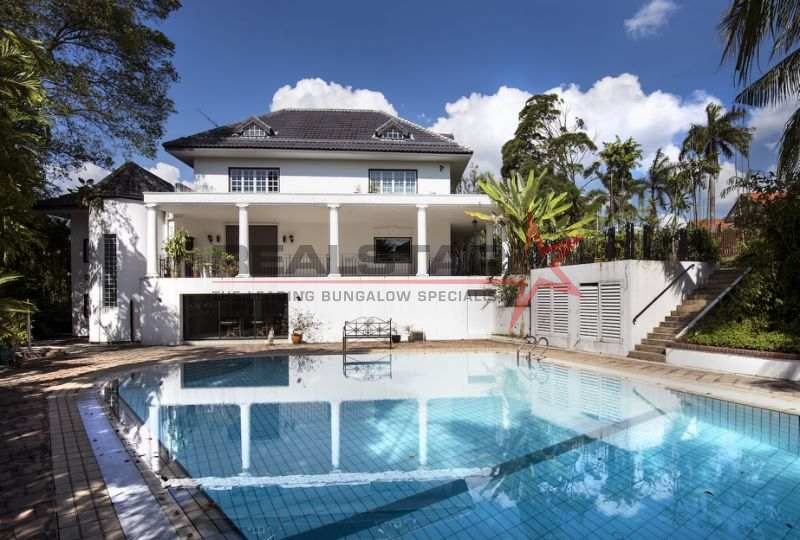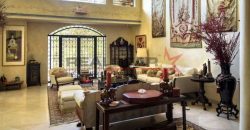 Description
View To Appreciate The European Style. Majestic Design, Near Amenities
1st flr – 2 guest room ensuite, tv room, library, music room overlook garden and pool, lounge, huge dinning area (double volume ceiling), huge helper's room, powder room, 1 kitchen
2nd flr
Master room ensuite , study room ensuite, 2 dresser rooms.
(huge room)
big attic
outdoor – inground pool approx 25m, 6m depth , park 7 cars
spacious, no lift but can be provision for installation of lift
Basement – used as italian bristol/ gym
Amtico vinyl tiles in the guest room
UK painters painted the living room and main hall.
French lime stone for easy maintenance
Just did up new fencing.
Bedroom Amtico washed Oak
Gaggenao kitchen appliances
basement is Amtico Cork series laminates
The grand proportions of the house point to a classical design. The decorative frieze running along the border of the porte cochère was in- spired by a visit to Mauritius, while the patterned granite flooring at the entrance was inspired by a visit to St Petersburg
The entrance hall — with its 8m ceiling and painted dome, grand staircase with brass railings, textured walls and arched doorways — reflects a Mediterranean style. The textured walls and painted dome are the work of two British artists, the limestone floor tiles are from Paris and the designer bathroom tiles from Spain.
Beautiful home.
Contact me for viewing.
Darius 94305870
Gazetted GCB Areas
Belmont Park/Bin Tong Park/Binjai Park/Brizay Park/Bukit Sedap/Bukit Tunggal/Caldecott Hill Estate/Camden Park/Chatsworth Park/Chee Hoon Avenue/Chestnut Avenue/Cluny Hill/Cluny Park/Cornwall Gardens/Dalvey Estate/Eng Neo Avenue/Ewart Park/First/Third Avenue/Ford Avenue/Fourth/Sixth Avenue/Gallop Road/Woollerton Park/Garlick Avenue/Holland Park/Holland Rise/Kilburn Estate/King Albert Park/Leedon Park/Maryland Estate/Nassim Road/Oei Tiong Ham Park/Queen Astrid Park/Raffles Park/Rebecca Park/Ridley Park/Ridout Park/Swiss Club Road/Victoria Park/White House Park/Windsor Park/Good Class Bungalow/GCBA/GCB
Property ID

25769

Price

$32.8 million

Property Type

Bungalow / Detached

Property status

Good Class Bungalow

Bedrooms

3

Est. Built-Up

11,000 sqft

Est. Land Area

25,810 sqft

Property District

10

Property Tenure

Freehold

Home Condition

Well Renovated

Storey

2

Attic / Basement

Basement

Details
Classic style, second to none. Call us for a private viewing.
Contact