$6.48 million

/ Negotiable


4,300 sqft
Est. Land Area


4,440 sqft
Est. Built-Up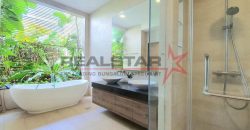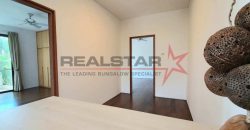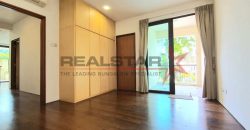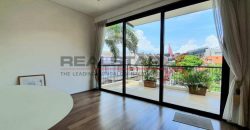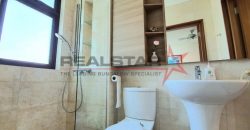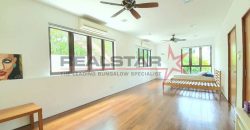 Description
Located In Quiet Cul De Sac With Spacious Bedroom
TOP OF THE WORLD VIEW
Fantastic view at open roof terrace to see whole estate
PRIVACY
Located in a quiet cul de sac to enjoy privacy yet easy access to main road and amenities
TROPICAL DESIGN
Resort sytle linked bungalow with spacious bedrooms, bright and breezy!
WHAT'S MORE?
1km to Opera Estate Primary School & St. Stephen's School
Owners did reconstructions in 2010, TOP 2012. Very well maintained tropical design semi d with mature garden. Park 2 cars. Has koi pond. Good view of the estate from the open terraces. Breezy. Can put in lift
Level 1: big dining/living room, dry & wet kitchen, common bathroom, helper's room.
Level 2: family area + 1 ensuite bedroom + 2 bedrooms sharing 1 bathroom.
Level 3: master bedroom with big walk in wardrobe, semi open concept bathroom, big study room, small family area, open terrace
Attic: small room with attached powder room. Big open terrace is also directly accessible from the staircase next to the carporch.
Realstar – The Leading Bungalow Specialist !
Realstar has handled more than 12 Billion Dollar worth of landed transactions.
We specialise in landed property in D14/15/16.
MORE Houses visit us at www.realstarpremier.com/east
SELLING OR BUYING! CALL REALSTAR THE LANDED SPECIALIST AT 61001008 NOW!
We have more than 100 Properties for YOU:
RS Exclusive!
1) Harvey Avenue SD $6.8M
2) Bedok Avenue SD $6.3M
3) Wareham Road SD $6.99M
4) Fidelio Street SD $6.48M
5) Melrose Drive DT $7.28M
6) Eden Grove CT $10xxpsf
7) Jalan Lateh Bungalow $17.6M
8) Jalan Mengkudu Semi-D $7.2M
**Brand New**
Haig Road 2 units Terrace $7.8M
Haig Lane Semi-Detached $6.5M
Onan Road Inter at $4.xM
Riviera Drive Semi-Detached $6.55M Each
Carmen Street Bungalow $9.38M / Semi Detached $7.38M
Tosca Street A pair of Semi Detached $8M
Upper Bedok Road Semi Detached $7.8M
Mayfield Ave Bungalow $13.85M each
Jedburgh Gardens A pair of Semi Detached $6.3M
Lorong Salleh Semi Detached $6.48M
AND MANY MORE…
Our 2021 Transaction:
Frankel Ave SD $7.8M & DT $9.5M
Bowmont Gardens SD $5.xM
Lor Marzuki DT $6.75M
Sennett Ave SD $5.9M & $5.98M
Dunbar Walk SD $5.3M
Onan Road IT $4.125M
Jalan Remis SD $6M
Martia Road IT $3.85M
Broadrick Close SD $5.95M
Goodman Rd DT $8.xM
East Coast Drive SD $4.92M
Everitt Rd IT $2.68M
Poole Road SD $6.888M
Langsat Road CT $3.5M
Yarrow Gardens SD $4.41M
Lorong L T K IT $3.12M
Joo Chiat Walk IT $4.5M
Tosca Street SD $4.6M
Ramsgate Rd DT $11.9M
Broadrick Rd DT $18.1M
Limau Grove SD $4.88M
Jln Baiduri DT ask $9M
La Salle St CT $4.2M
Jln Keris CT $4.28M
Lor H Telok Kurau CT $4.08M
Lyndhurst Rd SD $8.3M
Branksome Rd DT $13.2M
Bedok Ria Terrace CT $4.1M
Lor J Telok Kurau IT $3.88M
Margate Rd CT $5.325M
Swanage Rd SD $4.85M
Bournemouth Rd SD $10.288M
Pasir Ris Hts $1.688M
Limau Walk IT $3.55M
Mangis Rd CT $4.3M
Sallim Road DT $7.5M
East Coast Ave SD $5.85M
Jln Pari Burong DT $4.7M
Goodman Rd DT $6.9M
Pulasan Rd IT $3.78M
Lorong 108 Changi IT $3.85M
Rambai Rd CT $3.15M
Figaro Street IT ask $3.78M
Branksome Rd DT $11.5M up
Ceylon Road SD $5.68M
AND MORE…
Property ID

35358

Price $6.48 million

/ Negotiable

Property Type

Semi-Detached

Property status

East District

Bedrooms

5

Bathrooms

5

Year Built

2012

Est. Built-Up

4,440 sqft

Est. Land Area

4,300 sqft

Car Park

2

Property District

15

Tenure

Freehold

Home Condition

Average Condtion

Storey

3.5
Contact
Senior Associate Sales Director
Other Properties